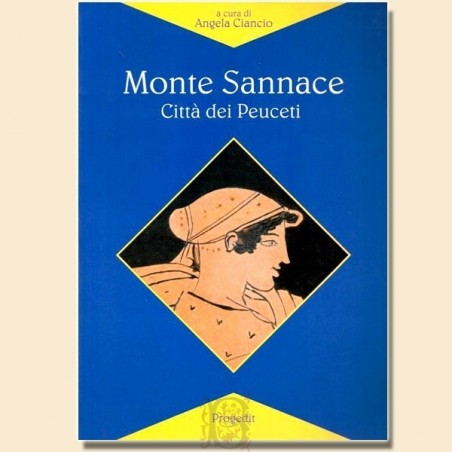  
Monte Sannace city of the Peuceti
Monte Sannace city of the Peuceti, edited by Angela Ciancio, Progedit, Bari 2001, pp. 143, richly illustrated, 24 cm, br. and.
Series: Itineraries.
Monte Sannace is an archaeological site near Gioia del Colle (Bari), where for decades an ancient Peucetian city has re-emerged piece by piece, with the acropolis, the urban structures, the large walls, the civilian settlement in the plain and the sacred and administrative architecture on the top of the hill. But where, at the same time, an environmental park is being preserved, with a nature trail among the green Mediterranean flora of fragni, downy oaks, holm oaks, but also strawberry trees, myrtle, viburn. The union is underlined by this text, edited by Angela Ciancio, director of the park and of the National Archaeological Museum of Gioia. The book intends to disseminate the great mass of scientific writings published so far on the archaeological settlement, updating them with the most recent acquisitions. And to do this it avails itself of the contribution of a series of specialists, who in essential chapters present all the aspects related to the site, from the geological to the residential ones, from the numismatic emergencies to the ceramic imports from ancient Greece, from the tombs found so far (more of two hundred) to the wall frescoes that adorn some of them. The coins testify to trafficking with other Peucezie cities such as Ceglie and Bari, with the Greeks Taranto, Eraclea and Naples. But the lack of pieces minted in the imperial period reinforces the hypothesis of the gradual abandonment of the site starting from the second century. d. C. In the volume Giuseppe Libero Mangieri presents the treasure re-emerged on the acropolis in the 1930s and datable to the arrival in Puglia of Pirro King of Epirus to help Taranto. That early third century was a terrible period for Peucezia. And evidently the owner of these coins, forced to flee, preferred to bury them in a safe place, with the idea of recovering them, once the danger was avoided.
In excellent condition. Uncommon publication.
N266-4340