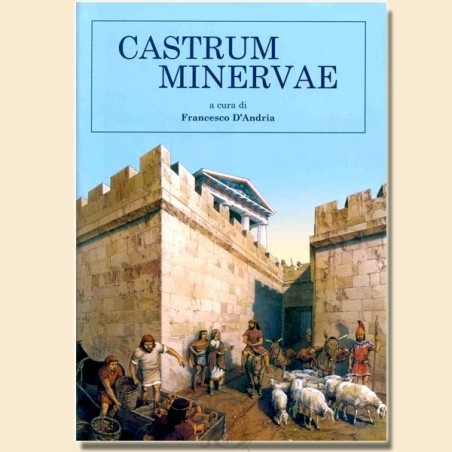  
Castrum Minervae
Castrum Minervae, edited by Francesco D'Andria, Congedo Editore, Galatina 2009, pp. 299, richly illustrated, 25 cm, br. and with dust jacket.
Series: Archeology and history, 9.
Work with numismatic references, including the contribution of Giuseppe Sarcinelli, Coin Findings from Castro, in which ancient, medieval and modern coins are presented. The exhibition, of which the volume is the catalog, is the culmination of a long path of collaboration between the Municipality of Castro, the Superintendence for Archaeological Heritage of Puglia and the University of Salento. From that agreement an operational practice was born in which the young archaeologists of the University, with their commitment and enthusiasm, have produced extraordinary scientific results. Between resumptions and new interruptions, the great fortified wall of the Hellenistic town began to emerge more and more clearly, then the votive deposits appeared which allowed to identify an extensive cult complex that dominated the landing place and the stretch of coast up to Capo di Leuca, the ancient iapigio promontory. The votive offerings, the architectural fragments, the wall structures thus formed a mosaic in which the literary testimonies on the Athenanion of the head of Hapygus, merged into book III of Virgil's Aeneid, took shape. The turning point had finally come in May 2008, when Amedeo Galati and Emanuele Ciullo, during the cleaning of an excavation section, had found a bronze statuette of Athena Iliaca with a Phrygian helmet. Now we are working to create the itinerary at the foot of the walls, through the terraced gardens that still surround the town; you can thus admire the large block walls built by the Messapi, the mighty Spanish structures superimposed on them and turn your gaze to the extraordinary panorama of the rocks overlooking a very blue sea, up to the mountainous coasts of Albania, which sometimes reveal themselves, especially in the coldest days of winter. Together with the Castle, the Romanelli Caves and Zinzulusa, the Romanesque Cathedral is becoming increasingly accessible to a unique cultural heritage, even in Salento so rich in evidence of its history and natural beauty.
In excellent condition.
N266-4338