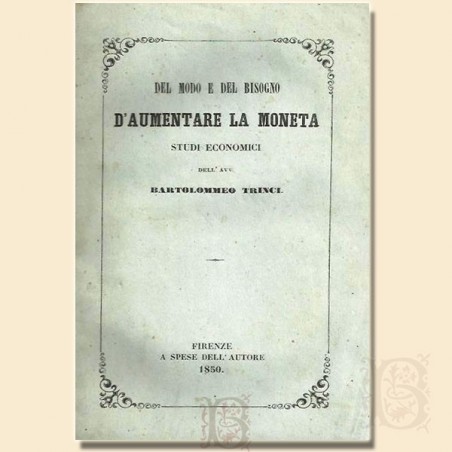  
Trinci, On the way and the need to increase the currency
Bartolommeo Trinci, On the way and the need to increase the currency. Economic studies, at the author's expense, Florence 1850, pp. 196, 19 cm, br. and.
From the Index: Shortage of vehicles in circulation; The value of precious metals; Californian gold; Ways to raise the currency; Recall all precious metals at this office; Errors accepted in this regard by the most enlightened nations; Proposal of a tax on gold and silver jewelry; Statistics of non-minted metals; On precious metals and banks; Economic concept of circulation; Historical evidence of the present concepts drawn from antiquity and from the trade of the most flourishing Italian republics; etc.
Volume almost completely intact, in excellent condition, with very fresh paper.
Work of extreme rarity, missing in all specialized libraries repertoriate.
N371-3308