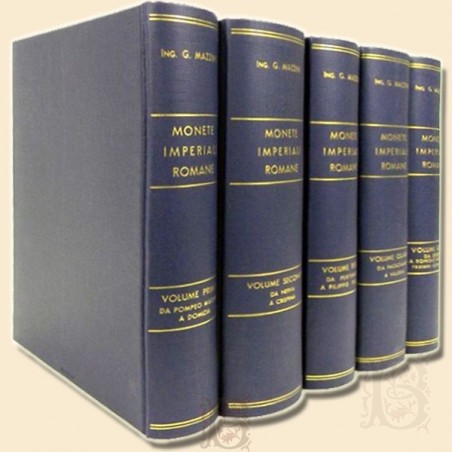  
Mazzini, Roman imperial coins, 5 vols.
G. Mazzini, Roman imperial coins, 5 volumes, Mario Ratto Editore, Milan 1957-1958, pp. 1782 overall, 531 tables total, 27 cm, binding ed. in all canvas with titles and threads in gold on the back, upper cut sprayed in gold.
Volume I: from Pompey the Great to Domitia, pp. XX, 277, 98 pl.
Volume II: from Nerva to Crispina, pp. XII, 410, 149 tablets
Volume III: from Pertinax to Philip the son, pp. X, 332, 102 pl.
Volume IV: from Pacaziano to Valeria, pp. XVI, 366, 102 tablets
Volume V: from Severus II to Romulus Augustulus - Tesserae - Contoured, pp. XI, 328, 80 tablets
Edition of 500 numbered copies.
The volumes present the most sumptuous private collection of Roman coins ever established, comprising 8,051 specimens, including 1,261 gold coins and 1,641 large bronzes, most of them exceptional in terms of rarity and state of conservation, all reproduced in detail in the splendid tables.
Work in an exceptional state of conservation. Very rare.
N406-3388