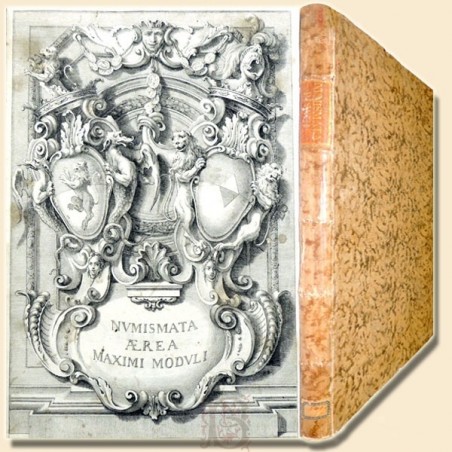  
Airline numbers maximi modules
Aerial numismatization selectiora maximi modules and Museo Pisano olim Corrario, apud Baptistam Albritium Hieronymi filium, Venetiis sd ma 1726, pp. 8 including wonderful figured antiporta to the Pisani and Correr arms made by the famous engraver Giovanni Antonio Faldoni (1689-1770), frontispiece, index and dedicatory with drop cap surrounded by fine friezes, 92 sumptuous copper plates illustrating ancient medals, 45 cm (folio) , splendid coeval binding with titles and decorations in gold on the gusset on the spine, sprinkled cuts.
The museum described in this monumental work was founded by Girolamo Corrario and then enriched by his son-in-law Ermolao Pisani. A copy of the volume was donated to the Cassinese abbot Alberto Mazzoleni, who from 1740 to 1744 reprinted it in his Bergamo printing house. The present edition is much rarer than that of Mazzoleni, with which it is often confused.
Due to a typographical error, the volume presents two tables XIII, linked consecutively, but the table XIV is missing: a table XIII has therefore been inserted in place of the XIV. Attached to the old print volume reproducing plate XIV (30 cm).
Minimal traces of use to the binding, otherwise exemplary overall in a superb state of conservation and perfectly imprinted, with very fresh paper.
Extremely rare work.
N417-3429