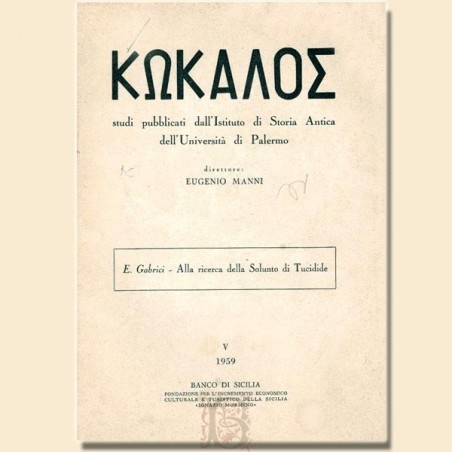  
Gabrici, In search of the Solunto di Thucydides
Kokalos. Studies published by the Institute of Ancient History of the University of Palermo, Banco di Sicilia. Foundation for the economic, cultural and touristic increase of Sicily Ignazio Mormino, Palermo, n. V, 1959, pp. 55, ill., Pl. 12, 25 cm, br. and.
Issue entirely dedicated to the study of E. Gabrici, In search of the Solunto di Tucidide, with very wide numismatic references. From the Index: Pre-Hellenistic Solunto in the literary tradition and numismatics, Phoenicians or Sicilians the builders of polygonal walls in Sicily ?, Monetary situation in western Sicily from the end of the 5th century to the arrival of Timoleon, The reaction of Hellenism and the new legend of Heracles in Sicily and in Magna Graecia, etc.
Small pen marks on the front cover, insignificant signs of aging, otherwise in excellent condition.
Very rare.
N385-3349