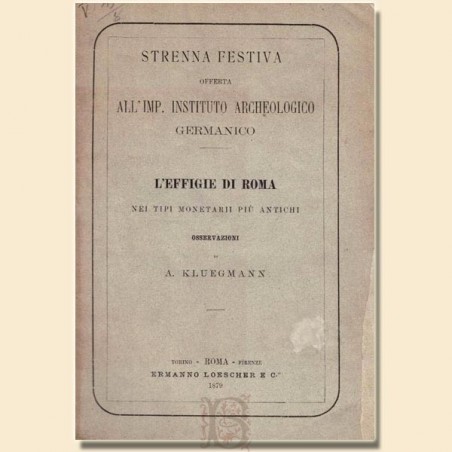  
Kluegmann, The effigy of Rome in the most ancient monetary types
A. Kluegmann, The effigy of Rome in the most ancient monetary types, E. Loescher and C., Rome 1879, pp. 61, 1 pl., Cm 24, br. and.
At the top of the title page: Festive Strenna offered to the imp. Germanic Archaeological Institute.
Valid iconographic investigation by Kluegmann, an attentive scholar of republican Roman coins, who had begun to prepare an organic research on these issues, but his premature death prevented him from completing it.
Minimal traces of use to the binding, otherwise in excellent condition.
Extremely rare.
N451-3536