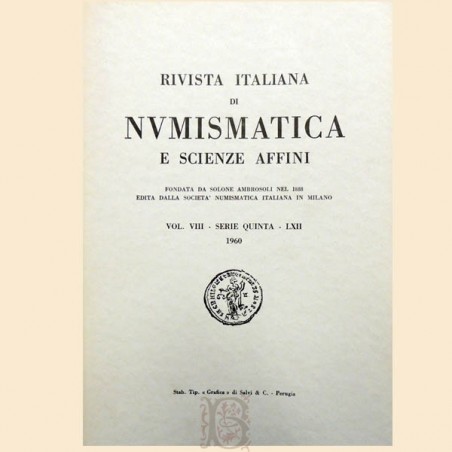  
Italian numismatic magazine, 1960
Italian journal of numismatics and related sciences. Founded by Solone Ambrosoli in 1888. Published by the Italian Numismatic Society of Milan, Milan, vol. VIII, s. V, no. LXII, 1960, pp. 200, richly illustrated, 22 tablets, 25 cm, br. and.
From the Index: L. Brunetti, New guidelines on the Taranto mint. E. Fantecchi, Coins of Carausius and Alletto of the Numismatic Cabinet of Milan. E. Leuthold, sr. and jr, Light solids from XXIII silique of the emperors Maurice Tiberius, Phocas and Heraclius. Characteristics and quantity of the coins minted by the Italian Mint in the decade 1951-1960. V. D'Incerti, In memory of Pietro Oddo.
In excellent condition.
N379-4050