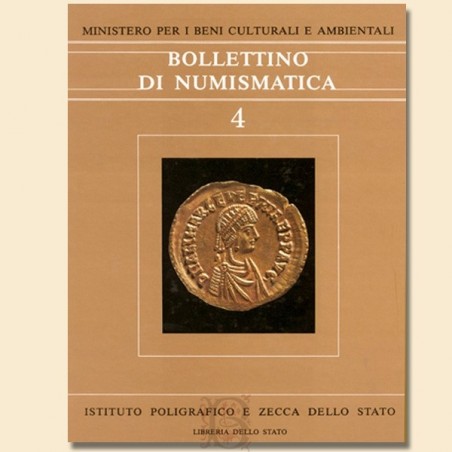  
Numismatics Bulletin, n. 4, January-June 1985
Numismatics Bulletin, Ministry for Cultural and Environmental Heritage, Rome, n. 4, January-June 1985, pp. 254, richly illustrated, 29 cm, br. and.
From the Summary: FRANCESCO PANVINI ROSATI: Observations on the circulation in Italy in the 5th century AD of Roman gold coins; ALBERTO MANODORI: Continuity and change in the iconography of the emperor from paganism to Christianity. Notes for a semantic-iconological analysis of political and institutional values at the beginning of the relationship between state and church; NUMISMATIC SOURCES: Monetary closets in Italy. Documentation of the complexes; GIANFILIPPO CARETTONI: The House of the Vestals (Atrium Vestae). Topographic notes; LUCREZIA UNGARO: The closet of the House of the Vestals, Rome 1899; ARCHIVAL SOURCES: NAPLES, STATE ARCHIVE: IMMA ASCIONE: Sources for a history of southern coinage. First part: From the Byzantine and Longobard duchies to the Norman-Swabian monarchy (10th-1265th century); ROME, STATE ARCHIVE: LUIGI LONDEI: The Papal Mint in Gubbio; NEWS: Memory of Ernesto Bernareggi; CRITICAL CONTRIBUTIONS: Maria Teresa's coinage for Milan (AA.VV.); REPORTING: STUDIES: M. RAVEGNANI MOROSINI, Lordships and Principalities. Italian coins with portrait, 1450-1796 (S. BALBI DE CARO); DONATO TAMBLE ', The translation of cultural property into English (V. MALVAGNA); DONATO TAMBLÉ, The unity of the European archival heritage: The XX National Archival Congress (V. MALVAGNA); CONFERENCES AND EXHIBITIONS: ANCONA, National Museum of the Marche: The Marche in the High Middle Ages; FRANKFURT SUL MENO, Numismatics and the Computer, 2nd International Meeting; GROSSETO, XXI Italian Archival National Congress; LONDON, British Museum: The archaic Temple of Artemis in Ephesus: a reconsideration of the first findings; LONDON, British Museum - Royal Numismatic Society: The use of scientific techniques for the study of the coinage of Europe and the Mediterranean world between 500 and 1500 AD; MILAN, Franciscan excavations in the Holy Land; PAESTUM, The Sallusto Collection, an acquisition; ROME, The public numismatic collections in Italy.
Slight signs of aging, otherwise in excellent condition.
N266-4535