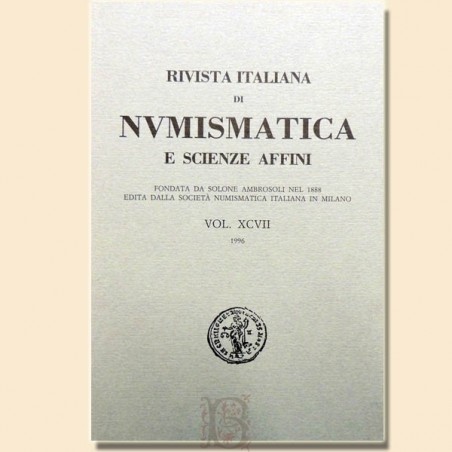  
Italian numismatic magazine, 1996
Italian journal of numismatics and related sciences. Founded by Solone Ambrosoli in 1888. Published by the Italian Numismatic Society in Milan, Milan, 1996, pp. 362, richly illustrated, 25 cm, br. and.
From the Index: L. PEDRONI, The 4th century hiatus in the coinage of Campania. L. VILLARONGA, Els mercenaris reclutats a través d'Empòrion i Rhode abans de l'any 241 BC D. UJES, Coins of Ballaios from the Hermitage of St. Petersburg. M. PUGLISI, The bronze coinage of the New Athenian Style. T. VOLK, Retroconversion and the numerical analysis of Roman republican coin-hoards (II). F. PANVINI ROSATI, Research on the Roman coin type. The personifications. L. ROSSI, "Riding for Caesar" can't win'em all: Conflict Iconography of the Imperial Guard on Roman Coins and Monuments. RC MUELLER, Supply and demand of metal money in northern Italy during the Middle Ages. G. RUSSO, On the technique of producing the numerary in silver alloy in the ancient and medieval world. B. CALLEGHER, Cards, merchant bills and doge bills from the "Guido Zattera" collection of the Bottacin Museum. PL GROSSI, An unknown coin of Alfonso II for Reggio Emilia. L. BELLESIA, The famine of money in Modena in 1567. G. CROCICCHIO, G. FUSCONI, Unpublished coins of Ottavio and Alessandro Farnese for Piacenza. L. GIANAZZA, Aspects of Savoyard numismatics. Monetary testimonies of the Savoy minor orders. VL KOVASZNAI, The German aspects of Hungarian Art Nouveau medals. G. GIROLA, Studies on monetary issues of massaliot imitation. MP BLASI, Collection of 540 sulfur casts of coins from the late republican and imperial era from Rome and currently in Donaumünster.
Very good condition.
N379-4128