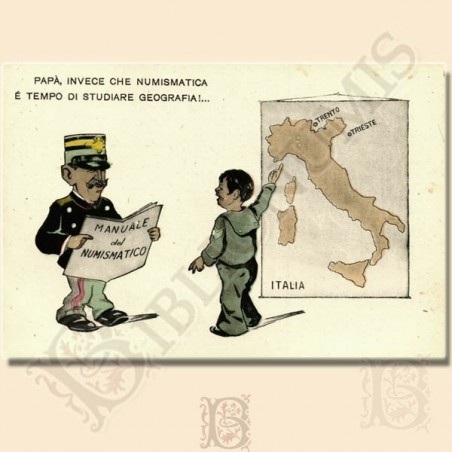  
Satirical post card with numismatic theme, Vittorio Emanuele III, around 1910
Satirical post card with numismatic theme, dedicated to Vittorio Emanuele III, uncirculated, around 1910, 9x14 cm.
The illustration features the numismatic king Vittorio Emanuele III, intent on reading a numismatic manual, who is urged by his son Umberto, future sovereign of Italy, to engage in the study of geography rather than numismatics. The invitation of the infant is accompanied by the indication of a geographical map of Italy, where Trento and Trieste are clearly located, with a clear allusion to the irredentist requests.
In perfect condition. Very rare.
N382-SC