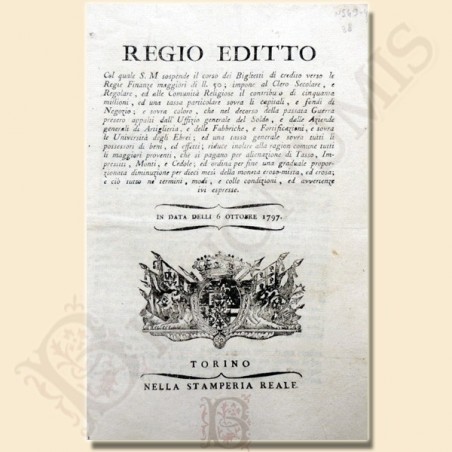  
Regio Editto, Turin 6 October 1797
Regio Editto, with which SM suspends the course of credit tickets to the Regie Finanze greater than 11. 50, imposes on the Secular and Regular Clergy and on the Religious Communities the contribution of fifty million and a particular tax on the capitals, and shop funds; and over those who in the course of the past war took contracts from the General Office of Soldo, and from the General Artillery Companies, and from the Factories, and Fortifications, and over the Hebrew Universities; and a general tax over all possessors of goods and effects; it also reduces to common reason all the major proceeds that are paid for the alienation of Tasso [...] and this all in the terms, methods, and with the conditions and warnings expressed therein, in the Royal Printing House, Turin 6 October 1797, pp. 12, ill., 31 cm.
Beautiful large royal coat of arms and elegant illuminated letter.
Very good condition. Rare.
N549-4634