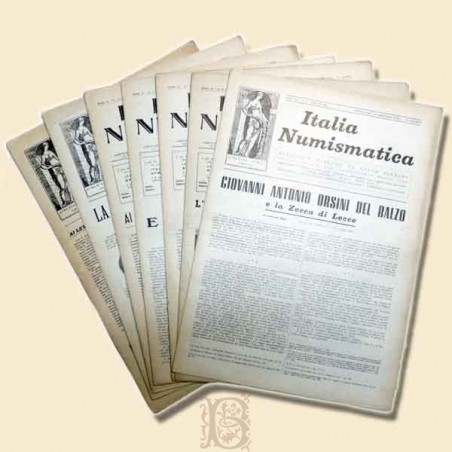  
Numismatic Italy, 10 issues, complete 1968 year
Numismatic Italy, directed by Oscar Rinaldi, Casteldario, a. XIX, 10 issues, 1968, richly illustrated, 36 cm.
The ten numbers make up the whole published for the year 1968.
The year presents hundreds of articles concerning every area of numismatics, also interesting are the sections dedicated to current events that allow us to grasp aspects and curiosities of the Italian numismatic life of the 1960s.
Note the following articles: G. Tabarroni, Celestial and terrestrial globes on Roman coins; V. Johnson, Portraits of Contemporary Medalists; G. Chiapusso, An unpublished Venetian osella that recalls the last victorious battle with the Turks; A. Fiandra, The strange and adventurous history of our lira; OR, How numismatics takes place in Italy; C. Parlato, Medal of the Ptolemies of Siena; French medalists; AR, Quantities of coins minted by the Italian mint; Leogrande, The Mint of Milan; etc.
Excellent general condition.
N147-3239