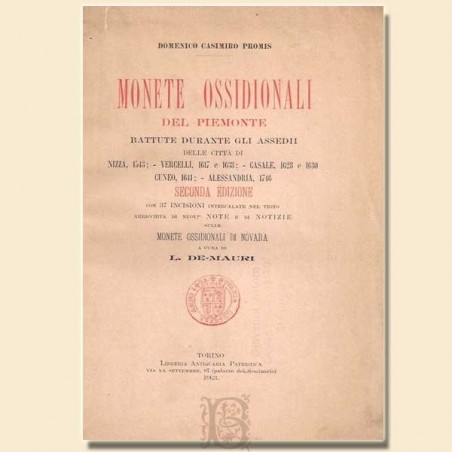  
Promis, Piedmontese obsidional coins
Domenico Casimiro Promis, Piedmontese obsidional coins. Beaten during the sieges of the cities of Nice 1543, Vercelli 1617 and 1638, Casale 1628 and 1630, Cuneo 1641, Alessandria, 1746. Second edition with 37 engravings interspersed in the text, enriched with new notes and news on the Novara obsidional coins. by L. De Mauri, Patristic Antiques Library, Turin 1903, pp. 44, richly illustrated, 24 cm, br. and.
Edition of 400 numbered and autographed copies by De Mauri, this is no. 76.
Membership stamp on the paperback and title page.
Slight traces of use on the paperback, otherwise exemplary in excellent condition.
Very rare.
N205-2912