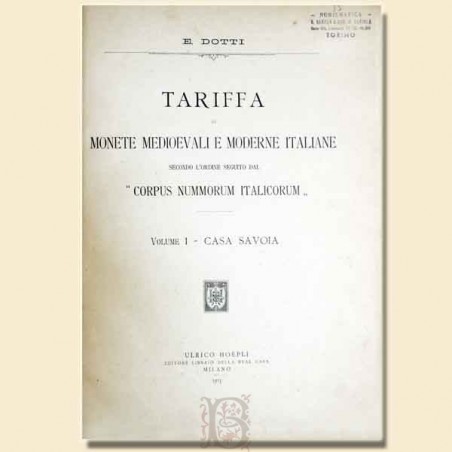  
Dotti, Tariff of medieval and modern coins. House of Savoy
E. Dotti, Tariff of medieval and modern Italian coins in the order followed by Corpus nummorum italicorum. Volume I. House of Savoy, Ulrico Hoepli, Milan 1913, pp. 49, 34 cm, coeval binding throughout the canvas with gold titles on the spine, the original editorial paperback preserved.
Elegant bookplate inside the back plate. Membership stamp of an old Turin numismatic firm on the title page. Annotations in pencil by an old collector in the margins of the pages.
Traces of use on the binding and signs of aging on the original editorial paperback which has small restorations on the margin, however a discreet copy. Rare.
N105-2467