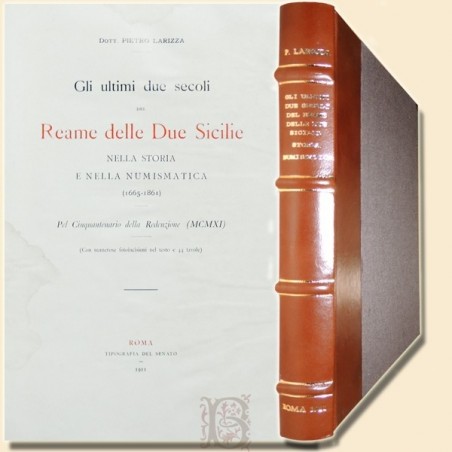  
Larizza, The last two centuries of the realm of the Two Sicilies in history and numismatics (1665-1861)
Pietro Larizza, The last two centuries of the realm of the Two Sicilies in history and numismatics (1665-1861), Tipografia del Senato, Rome 1911, pp. 126, richly illustrated, 44 splendid plates of which 19 with portraits and 25 with coins and medals, 31 cm, beautiful half leather binding with titles, gold fillets and four ribs on the spine, editorial paperback preserved.
Pietro Larizza (1866-1954), esteemed numismatist, historian and archaeologist, originally from Bova, in Calabria, published several works that are still highly appreciated today for their rigor and completeness. He was also an attentive collector, his prestigious collection of ancient Italian and Roman coins was auctioned by the firm P. & P. Santamaria of Rome in 1927 and 1928.
Work embellished by Larizza's long dedication to the first card.
Stains on the front editorial paperback and slight halos on the edges of the first four cards, otherwise the work is in excellent condition.
Original edition work of very rare appearance on the market.
N460-3473