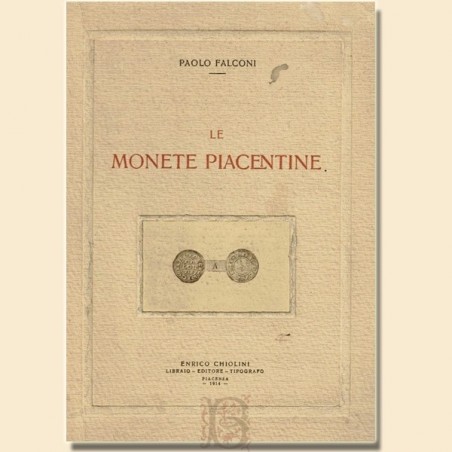  
Falconi, Piacenza coins, 3 vols.
Paolo Falconi, The coins of Piacenza, 3 vols., Enrico Chiolini Bookseller-Publisher-Typographer, Piacenza 1914-1920, pp. 300 in total with text within a beautiful red frame, ill., 22 splendid tables. covered with tissue paper, 26 cm, paperback ed. with embossed fillets, black and red titles and illustration applied to the front cover.
Volume I, Part I, Epoch of the communes 1138-1335, 1914, pp. 108, 3 tablets Numbered copy: 246.
Volume II, Part II, Visconti, Sforza and Papal dominion 1336-1545, 1920, pp. 96, 6 tablets
Volume III, Part III, Farnesian and Bourbon dominion 1545-1859, 1920, pp. 96, 13 pl.
Slight traces of use on the paperbacks, minimal lacks on the spine of volume II, otherwise the work is in more than good condition with perfect interiors.
Complete and very rare work.
N352-3464