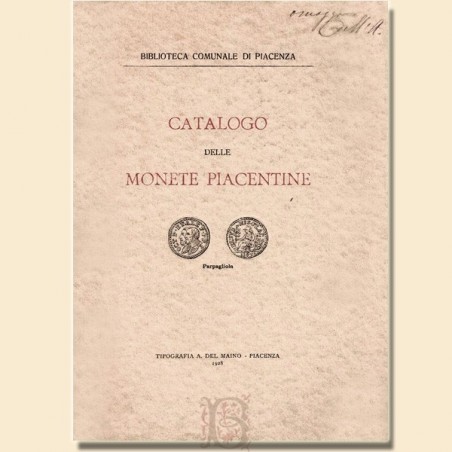  
Balsamo, Catalog of Piacenza coins
Augusto Balsamo, Catalog of Piacenza coins, Typography A. Del Maino, Piacenza 1928, pp. 38, richly illustrated, 25 cm, br. and.
A pupil of Carducci and of the Grecista Vittorio Puntoni, Augusto Balsamo (1875-1949) was director of the Municipal Library of Piacenza. In addition to editions with translation and commentary on Greek and Latin classics, he published the Catalog of Piacenza coins, proposed here, which due to its rarity is now missing in all the specialized libraries listed. In addition to collaborating with important literary magazines, Balsamo wrote about local history in the Historical Archives for the Parma Provinces, published by the Deputation of Homeland History of which he was a member since 1927, in the Piacentino Historical Bulletin and in the Piacentina Strenna. From 1901 to 1903 he was among the members of the Italian Bibliographic Society. After his death the family donated his book collection to the Piacenza Library. A room was then dedicated to his name.
Publication embellished by the author's autograph dedication.
In excellent condition. Extremely rare.
N514-4410