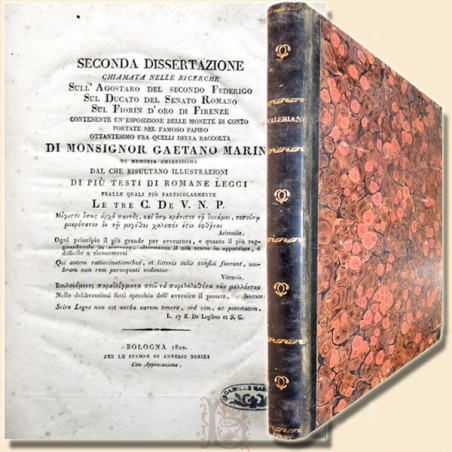  
Valeriani, On the Augustar of the second Federigo, on the duchy of the Roman Senate, on the golden florin of Florence
Luigi Valeriani, Second dissertation called in the research on the Augustar of the second Federigo, on the duchy of the Roman Senate, on the golden florin of Florence. Containing an exhibition of the account coins brought into the famous eightieth papyrus among those in the collection of Monsignor Gaetano Marini, for the prints of Annesio Nobili, Bologna 1822, pp. XXXI, 184, 28 cm, splendid coeval half leather binding with titles and decorations in gold on the spine, plates in marbled paper.
Luigi Valeriani (1758-1828) was professor of public economics at the University of Bologna, teacher of the diplomat and politician Pellegrino Rossi. In this work, which was preceded by another dissertation published by the author in 1821, Valeriani refutes the theses of the Scottish philosopher and economist Adam Smith.
On the title page there is a small coeval stamp of ownership and an old annotation in the right margin.
Insignificant traces of use to the dishes, for the rest it works with fresh paper, wide margins, in excellent general condition.
Extremely rare, missing in all the private libraries listed.
N455-3462