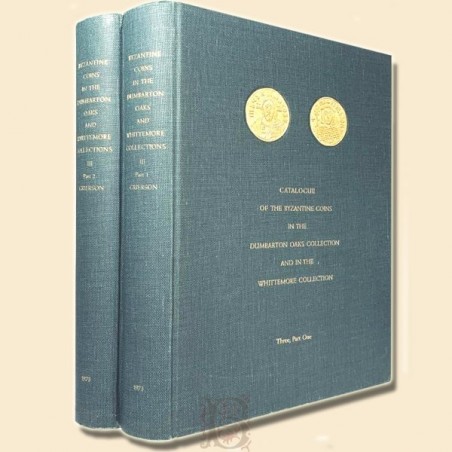  
Catalog of the Byzantine coins in the Dumbarton Oaks Collection and in the Whittemore Collection, Volume three, Part I and II
Alfred R. Bellinger, Philip Grierson, Catalog of the Byzantine coins in the Dumbarton Oaks Collection and in the Whittemore Collection, Volume three, Part I and II, Dumbarton Oaks Center for Byzantine Studies. Trustees for Harvard University, Washington DC 1973, pp. 888 overall, 69 tables total, 30 cm, beautiful and solid binding in all canvas ed. with titles and decorations in gold on the spine and on the front plate.
Part I, Philip Grierson, Leo III to Michael III (717-867), pp. X, 470, 29 pl.
Part II, Philip Grierson, Basil I to Nicephorus III (867-1081), pp. VIII, 471-888, 30-69 pl.
Work embellished with the autograph signature of the illustrious numismatist Philip Grierson (1910-2006) in the eyelets of both volumes. Small signature belonging to the title pages.
Original edition in excellent condition.
N266-4058