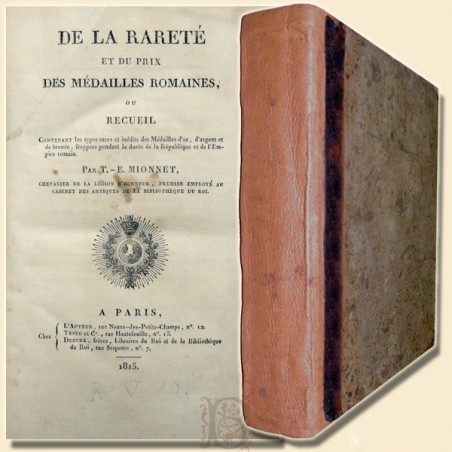  
Mionnet, De la rareté et du prix des médailles romaines
Theodore Edme Mionnet, De la rareté et du prix des médailles romaines, ou Recueil containing les types rares et inédits des Médailles d'or, d'argent et de bronze, frappées pendant la durée de la Republique et de l'Empire romain, chez l'Auteur, Paris 1815, pp. 8, XVI, 568, royal coat of arms engraved on the title page, splendid chalcographic illustrations interspersed in the text, 21 cm, beautiful and solid coeval half leather binding, plates in marbled paper and sprayed cuts.
This is the first, uncommon edition of this classic of numismatic literature.
Minimal lack of the external margin of the title page, without textual losses, with old restoration skilfully performed, insignificant halo of old millstone on some initial paper, for the rest volume overall in a more than good state of conservation.
N435-3459