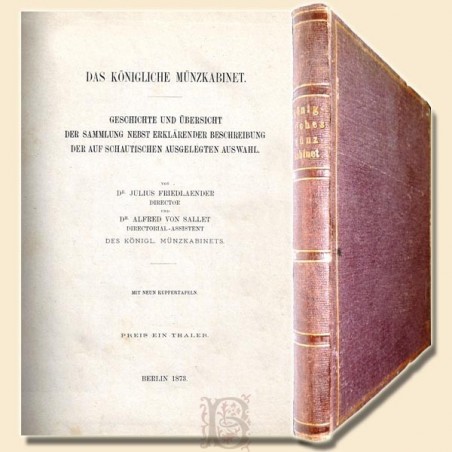  
Friedlaender, Sallet, Das Konigliche Munzkabinet
Von Julius Friedlaender, Alfred Von Sallet, Das Konigliche Munzkabinet. Geschichte und Ubersicht der Sammlung nebst erklarender Beschreibung der auf Schautischen ausgelegten Auswahl, sn, Berlin 1873, 1st ed., Pp. 251, ill., 9 beautiful tables reproducing ancient coins, 23 cm, elegant coeval binding in all cloth with embossed decorations, titles and gold fillets on the back and on the plates.
In the work, written scientifically, the authors focus for the first time on the stylistic differences of Greek art according to the different geographical areas, proposing a detailed description of 981 specimens, including coins and medals.
Some flowering mainly at the tables, but overall an excellent copy.
Very rare.
N409-2762